Hatha Yoga classes will begin in the Spring of 2017. Classes will be held outdoors in the Open-air Meditation Sanctuary, as weather permits. Classes will 9AM – 10:15 on the wooden meditation deck at site #4. All classes are donation based with no minimum donation required.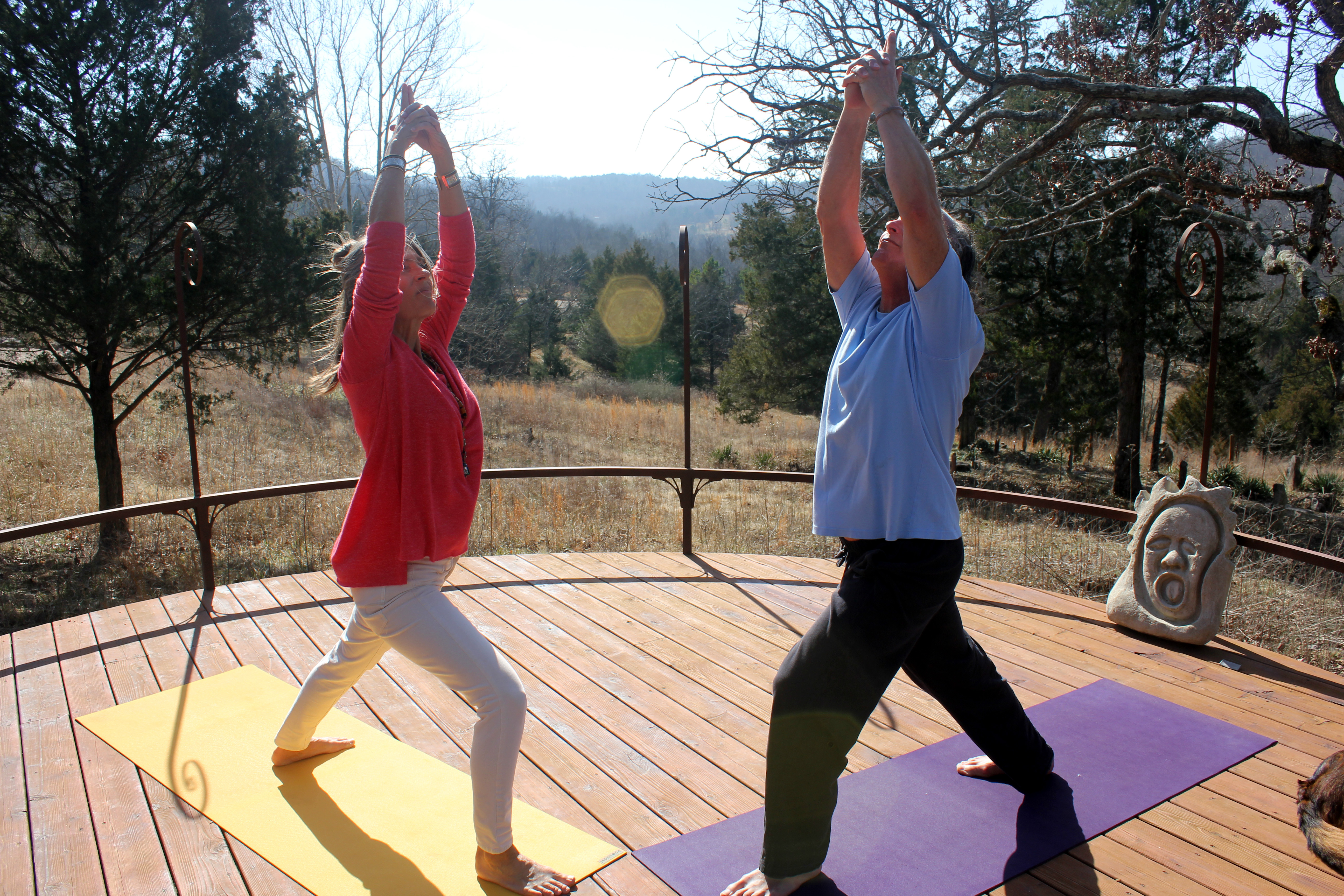 Our hatha yoga classes are designed for all yoga enthusiasts, whether this is your first class or if you have been doing yoga for years. Peter LaTona will guide these classes, as well as guest yoga teachers from the surrounding areas.
Peter LaTona has been practicing yoga for over 30 years and has trained in Iyengar ( John Schumacher & Tiffany Porte), Anusara (Sienna Sherman & Doug Keller), Bikram (Jimmy Barkham & Tina Hilbert) and Vinyasa (Tias Little & Laura Baily). He now resides in Eureka Springs with Heidi Astraia.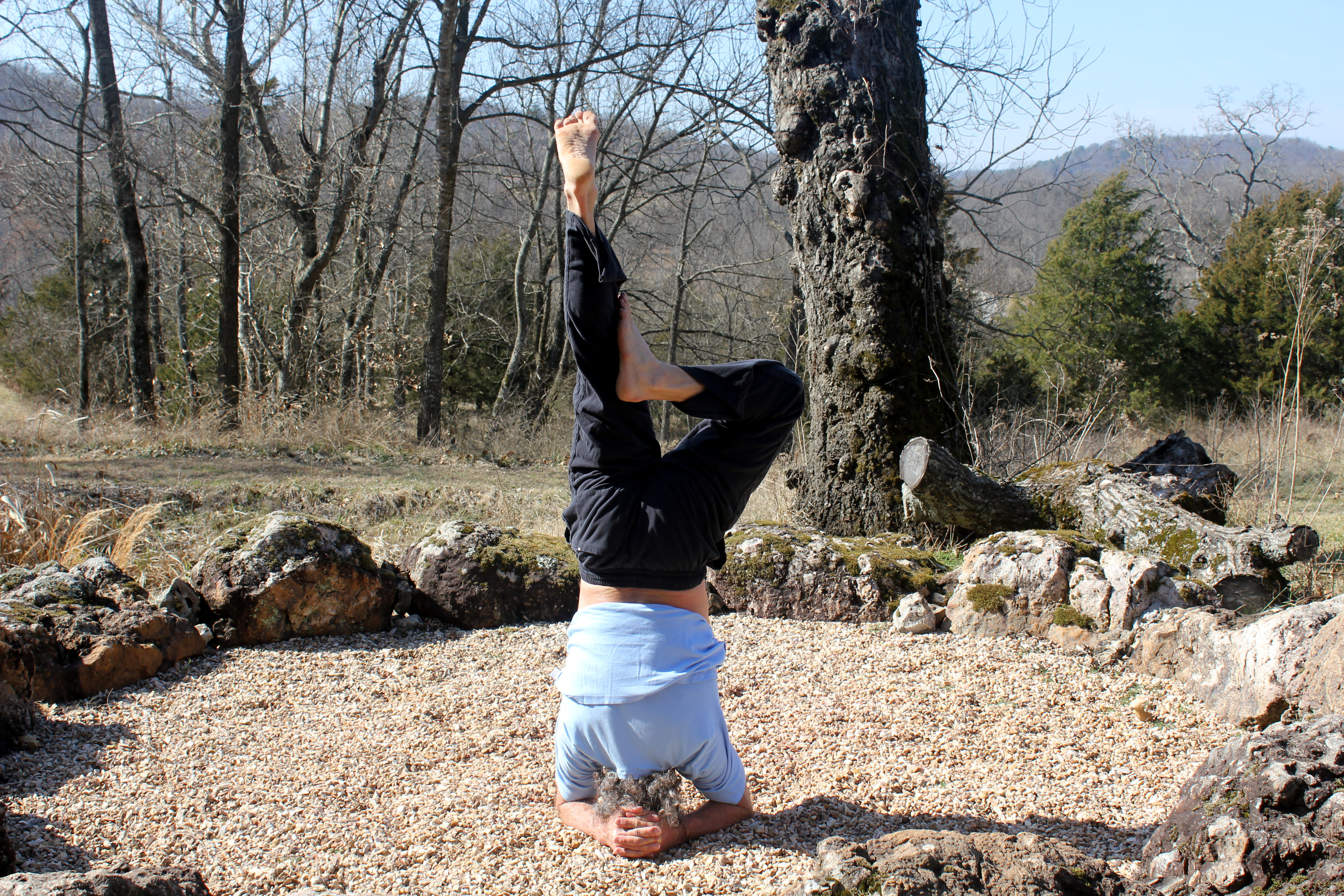 For more information contact info@openairmeditation.com or call 405-249-7931. On days where the weather looks questionable, please call Peter to see if class will be held on schedule.
IF YOU ARE A YOGA TEACHER WHO WOULD BE INTERESTED IN TEACHING CLASSES, PLEASE CONTACT PETER.
Directions to site #4 from the OMS Parking area:
Turn right onto the trail and simply follow the markers to Site 1, Site 2, Site 3 and then Site 4. You will be able to see the wooden observation deck of site 4, long before you arrive.
Yoga Instructor Peter LaTona
Peter was raised in North Miami beach, Florida. His early sporting interests were baseball, football, tennis, surfing and springboard diving. He later became a professional high diver and his family were pioneers in the sport of High Diving (what we now see in the Red Bull Cliff Diving contests). Peter had a 27 year career with AT&T and most recently created and managed the salesforce for one of the world's largest online retailers of gold, silver, platinum & palladium. He now lives in Eureka Springs, Arkansas with Heidi Astraia.
Peter's interest in hatha yoga and meditation began out of books in the 1970's, as there were no classes available. He has been practicing with instructors since 1984 and began teaching in 2002. Peter draws his inspiration from all of the different styles and teachers with whom he has studied.
Peter specializes in working with beginning to intermediate students, but all students are welcome.
IF YOU ARE A YOGA INSTRUCTOR AND WOULD BE INTERESTED IN TEACHING TO PROMOTE YOUR OWN CLASSES, PLEASE CALL PETER AT 405-249-7931.
Anusara Yoga – Sienna Sherman & Doug Keller
Bikram Yoga – Jimmy Barkam & Tina Hilbert
Iyengar Yoga – John Schumacher & Tiffany Porte
Vinyasa Yoga – Tias Little & Laura Baily